Vashon Island Books: Used, Rare & Out-of-print Books & Ephemera
Vashon Island Books is located on Vashon Island an rural island country setting just a short ferry ride from Downtown Seattle. We are a quality used bookstore for readers & collectors, with a select & diverse stock that is constantly changing and growing.  We do the majority of our business over the Net and are committed to providing professional service. With 30 plus years combined bookselling experience and knowledge - Vashon Island Books provides a trustworthy and respected outlet for your book buying needs.  
With nearly 100,000 titles on the shelf, whether you are looking for the latest paperback bestseller, an out-of-print edition, or a rare 17th century volume, there is a good chance we have it.  


(click here to search our listings)
Visit our Amazing New Vashon Island Facility!

Current hours are by appointment.   To arrange a visit please contact us:   Phone (206) 408-7017  
Email: [email protected]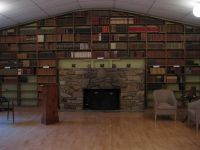 Perhaps the most striking features of the Main Hall are the hand-built bookcases surrounding our flagstone fireplace, shelved with leather-bound books dating from the 17th to the 20th centuries, it offers a stunning backdrop to the space.